A Family Through Changing Times...
The cast and storylines went through many changes over the nearly thirty years covered. Deaths, marriage, divorce, scandals, a world war, flu pandemic...The Bellamys weathered it all.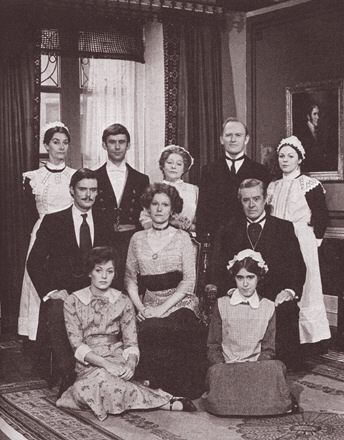 The years 1912 to 1914 saw many changes: Lady Marjorie died on the Titanic; son James marries Hazel, formerly his father's secretary. Many changes in the staff too....and an addition to the Bellamy family.
FROM L TO R, BACK ROW:
Rose; Edward the footman; Mrs Bridges; Hudson; Daisy the new under-housemaid
FROM L TO R, MIDDLE:
James Bellamy; his wife Hazel; Richard Bellamy
ON FLOOR:
Georgina Worsley, Richard's ward. Her mother and stepfather (Lady M's brother) also went down with the Titanic. And Ruby the kitchen maid.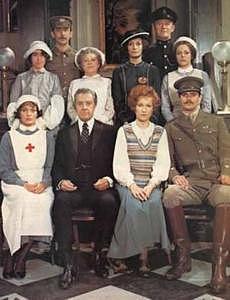 When WWI erupted in Europe, 165 Eaton Place was thrown into the war effort full force. Ruby went to work in a munitions factory, but came back to Eaton Place after the factory blew up. Edward joined the army and married Daisy. Rose became a bus conductorette. Hudson served the war effort as special constable. James Bellamy reported to the front in August 1914, and was wounded in 1918. Georgina served in France as a skilled nurse. Richard became Chief Lord of the Admiralty. Mrs Bridges took up war cookery -- "Win the War Pie" was served often both above and below stairs. Hazel volunteered for the Red Cross and other war charities. Only Daisy remained to take up the slack below stairs.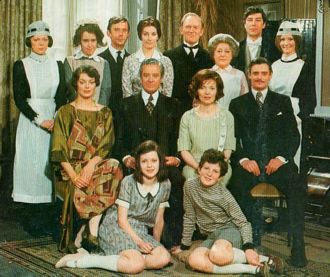 After the war, even more changes...Hazel died of influenza in 1918, just days short of the Armistice. Richard remarried, and Eaton Place once again became a full house.
FROM L TO R, BACK ROW:
Daisy, now head housemaid; Ruby; Edward, now chauffeur; Rose, now maid to Virginia; Hudson; Mrs Bridges; Frederick, the new footman; Lily, the new under-housemaid
FROM L TO R, CENTER:
Georgina; Richard; Virginia, the new Lady Bellamy; James Bellamy
ON FLOOR:
Alice and William, Virginia's children. Her oldest son Michael was killed in the war.

TRIVIA!
Lily was played by Karen Dotrice, the same who played little Jane Banks in Mary Poppins

CLICK HERE: Great – and not so great – Moments at 165 Eaton Place

[UpDown page 1] [Webbilicious] [Grand Web Central] [LBB Addy] [Hotmail Addy]